June 2019
| Mon | Tue | Wed | Thu | Fri | Sat | Sun |
| --- | --- | --- | --- | --- | --- | --- |
| | | | | | 1 | 2 |
| 3 | 4 | 5 | 6 | 7 | 8 | 9 |
| 10 | 11 | 12 | 13 | 14 | 15 | 16 |
| 17 | 18 | 19 | 20 | 21 | 22 | 23 |
| 24 | 25 | 26 | 27 | 28 | 29 | 30 |
Calendar

Card of the Week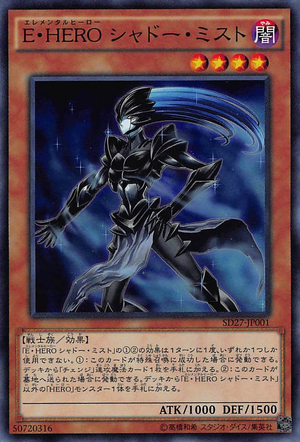 Elemental HERO Shadow Mist

Tester Name: Take a guess...(The Life Less One)
Testee Name: Slaven (Its in the title...)

Tester Deck: Evols
Testee Deck: Constellar

Deck Size: 0/5 - Had 52 cards in the deck. I grade it like this. 40-42 =5/5, 43 =4, 44 =3, 45 = 2, 46 = 1, 46+ = 0

Deck Construction: 3/15
The deck had 52 cards as mentioned above which really hurt the decks consistency. I'd advise you to take out all other constellar monsters you have. Your constellar monster line up should be 3 Kaus, 3 Pollux, 3 Algiedi and 3 Sombre. You should also try to take out the equip spells that give you additional attack. In this game attack doesn't make a huge difference. Especially when a deck like Constellars can just bounce the monsters. Another spell I would take out is all of the double summons. I did like the cyber dragon and photon thrasher tech so that was good. Add 2 forbidden lance you don't want traps to disrupt your constellar plays and you could consider Kaiser or vanity to really force your opponent into a corner and stopping them from swarming.

Deck Originality: 6/10 I have seen many constellar decks but this is by far a constellar deck that I have never seen :/

Siding: 2/10 Tbh your side deck isn't very good. You run Pendulum cards in your side deck which doesn't really stop my plays. Your side deck should be more like this to combat the current meta. 2 Debunk, 2 D.D. Crow, 3 Overworked, 2 Maxx C, 2 veiler (if max c n veiler aren't main decked.), 2 System Down, 2 Nobleman Of Cross out

Skill: 4/15 His skill was mediocre to be honest. He couldn't really stop my plays and 1 misplay he did was he attacked with Pleiades and I played Dimensional Prison and then he chained Pleiades' effect and targeted my prison. Now not only does Dimensional Prison still banish his Pleiades but he gave me a +1 with Pleiades' effect. Instead you were better of chaining his effect to bounce your Mage power so you would still have that later on in the match.

Rulings: 6/10 Caught my 1 intentional cheating I did with 101 which was pretty basic but did not know that he would not get the effect of his Antares if I negate the summon. He thought it would be similar to bottomless or torrential where the summon was successful.

Attitude: 15/15 He was a really nice guy :3

Duel Results: 0/20 I won 2-0 against him :3

[2-0 = 20/20]

[2-1 = 15/20]

[1-2 = 10/20]

[0-2 = 0/20]

Score: 36/100

Dorm Placement:

81-100: Obelisk Blue

60-80: Ra Yellow

0-59 : Slifer Red

Welcome to Slifer Red dorm! Better luck next time!

The Life Less One




Posts

: 8


Reputation

: 0


Join date

: 2014-06-22





Similar topics
---
Permissions in this forum:
You
cannot
reply to topics in this forum