August 2019
| Mon | Tue | Wed | Thu | Fri | Sat | Sun |
| --- | --- | --- | --- | --- | --- | --- |
| | | | 1 | 2 | 3 | 4 |
| 5 | 6 | 7 | 8 | 9 | 10 | 11 |
| 12 | 13 | 14 | 15 | 16 | 17 | 18 |
| 19 | 20 | 21 | 22 | 23 | 24 | 25 |
| 26 | 27 | 28 | 29 | 30 | 31 | |
Calendar

Card of the Week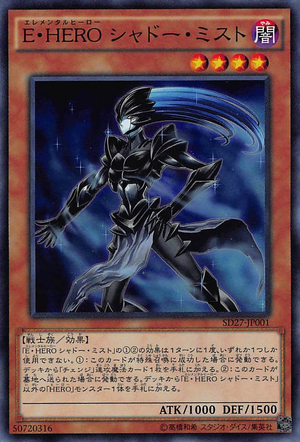 Elemental HERO Shadow Mist

Tester Name: FinalInzektion
Testee Name: NightmareOkami

Tester Deck: 3.5 Axis Firefist
Testee Deck: Heroic Challenger

Deck Size: 5/5 Perfect.

Deck Construction: 10/15 - Made some big monsters with nothing, hard to get around. 3500 attack beaters that can attack twice are scary. xD Biggest problem I saw, was once you got around em, he had no sign of backup. I'd suggest more backrow hate.

Deck Originality: 10/10 - Never dueled these before, and I've played quite a while.

Siding: 5/10 - Testee sided Fossil Dyna and Skill Drain. Fossil Dyna I felt wasn't a great choice against fists. They don't spam extra deck enough, nor special summon. On the other hand, Skill Drain worked great. Most Fist card's don't have high attack, and he had some big beaters. Game 2 he sacked me before I had a chance since I was unable to search my Fire Formations or pop any of his cards. Plus my extra deck only has one or two big beaters, and he solemned one where I basically was unable to recover.

Skill: 12/15 - Know's the game well. Biggest problem was should have used effect negation AFTER I paid my cost's rather than before. Where this isn't a huge mistake, it can put you in an advantageous position. The two I recall were my Fire Fist Gorilla, and Gagaga Cowboy. He should have waited for me to detatch cowboy for negation, and waited for me to tribute my fire formation card with Gorilla.

Rulings: 9/10 - Only can dock him a point here for a Silent Honor Dark ruling with Skill Drain. Kudos though for dropping that on my face btw.

Attitude: 15/15 - Couldn't find a nicer guy. I duel with this guy a few times a week, and he gets better and better each time. He gladly takes advice too, and acts on that advice.

[2-0 = 20/20]

[2-1 = 15/20]

[1-2 = 10/20]

[1-2 = 10/20]

Score: 76/100

Dorm Placement:

76 Points: RA YELLOW!

FinalInzektion

Admin





Posts

: 32


Reputation

: 0


Join date

: 2014-06-14




Nickstarz




Posts

: 18


Reputation

: 0


Join date

: 2014-04-29





Similar topics
---
Permissions in this forum:
You
cannot
reply to topics in this forum