June 2019
| Mon | Tue | Wed | Thu | Fri | Sat | Sun |
| --- | --- | --- | --- | --- | --- | --- |
| | | | | | 1 | 2 |
| 3 | 4 | 5 | 6 | 7 | 8 | 9 |
| 10 | 11 | 12 | 13 | 14 | 15 | 16 |
| 17 | 18 | 19 | 20 | 21 | 22 | 23 |
| 24 | 25 | 26 | 27 | 28 | 29 | 30 |
Calendar

Card of the Week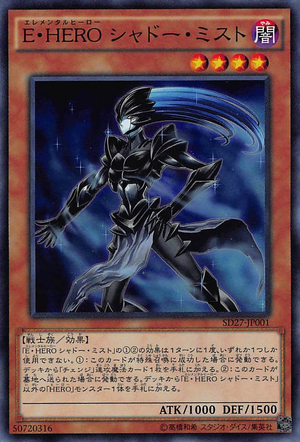 Elemental HERO Shadow Mist

Tester Name:Gabriel_Fairfox

Testee Name: Shark126999 [DN name not sure if name on here]

Tester Deck: Firefist
Testee Deck: H.A.T

Deck Size: 5/5

Deck Construction: 14/15
consistent seemed fairly normal for  HAT deck, and nothing bad that i could see.

Deck Originality: 5/10
Didn't really see anything i would say is a tech and like i said above just a standard H.A.T deck
Siding: 9/15

Skill: 13/15
Made a few mistakes but nothing major, though with me playing way i was some of them that could of cost him, if i didn't misplay in stupid ways would of cost him the duel 1. [Referring to game 1] but overall very solid ply

Rulings: 10/10
.
Attitude: 15/15

Duel Results: 20/20

[2-0 = 20/20]

[2-1 = 15/20]

[1-2 = 10/20]

[0-2 = 0/20]

Score:91/100

Dorm Placement: Obelisk Blue

81-100: Obelisk Blue

60-80: Ra Yellow

0-59 and below: Slifer Red

Note: i was fairly distracted during test and played fairly bad [ but from what i could tell, it would of only made a difference of 10 points max and would of still made it to obelisk blue at 81 if i didn't make them mistakes.

Gabriel_Fairfox




Posts

: 5


Reputation

: 0


Join date

: 2014-06-17




OnlyGodCanStopMeNow




Posts

: 12


Reputation

: 0


Join date

: 2014-06-19




---
Permissions in this forum:
You
cannot
reply to topics in this forum